TINA TURNER – SIMPLY THE BEST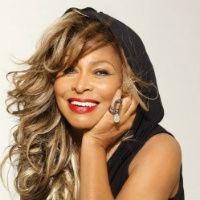 More than 70 years ago, a certain Anna May Bullock was born in the small American town of Nat Bush, Tennessee. She loved to sing from early childhood. The first scene for Tina Turner was the nightclubs of her hometown of Brownsville. And who then could have imagined that this girl after not so much time would become the queen of rock and roll and a living legend.
Winner of eight Grammy awards, the title of Queen of Rock and Roll, the most successful rock singer of all time, like 50 years ago, the singer goes on stage in miniskirts. And not in vain, because according to the results of many surveys, her legs were recognized as the most beautiful in show business.
Tina Turner is a unique person in the world of music, who has millions of fans of all ages. If they do not like her, they respect her. Success came to Tina quite late, but what a success!
The future star was born on November 26, 1939. singer Tina Turner Anna had a good voice and a great love of music. She heard the first works on the radio, and sang in the church choir. The relationship of the parents was far from ideal, soon the mother of Anna, Zelma, left the family and left for St. Louis. My father got married again and after a couple of years he packed his bags and moved to Detroit. For some time, Anna and her elder sister Ellin lived with relatives, and then moved to their mother in St. Louis. It was a real big city, and Anna felt that something extraordinary would finally happen in her life here. Unlike Nat Bush's hometown, St. Louis had a lot to go in the evening. On the 17th anniversary of Anna, Ellin took her sister to her favorite Manhattan club. That evening, The Kings of Rhythm played there. The girls sat at the table and began to listen enthusiastically to the fast, loud music. Moments later, the group leader appeared on the scene. He walked slowly to the microphone, picked up his guitar, and began to play. It was Ike Turner.
Anna May Bullock has never heard such amazing music in her life. From that moment on, she was seen at the club every evening, and soon with Ellin they met all the musicians of the group. Anna even told Ike that she did not mind singing with the Kings. singer Tina Turner "A good idea," he replied, "soon you will have a chance." But days and weeks passed, and there was still no chance, but one evening one of the band's musicians Ike jumped up to Ellin with a microphone and asked her to do something.
She furiously waved, and then Anna grabbed the microphone from the musician's hands and sang. Hearing Anna's voice, Ike jumped off the stage, ran to her, picked him up and exclaimed: "I didn't think you really know how to sing." After that, Anna became one of the vocalists of The Kings Of Rhythm. So began the stellar story of the future Tina Turner.
Ike called her Little Ann, bought her silver dresses, jewelry and even gave money to insert a golden tooth. Anna was in heaven with happiness.
Exactly a year later, when she was 18, Anna had a son from one of the band's musicians, and very soon the newly-made father left his newly formed family. Anna was left alone with the child. Despite the troubles in her personal life, by the age of twenty, Little Ann became the lead soloist of The Kings Of Rhythm.
Despite all the difficulties, Tina was happy. At the beginning of 1979, luck smiled again at the singer when she was invited to perform in the grandiose Hollywood Nights program, singer Tina Turner, where she met her future manager, Roger Davis. "You definitely have to sing rock and roll," he said, Tina didn't mind. But the real peak of success came in her life when David Bowie arrived at the Ritz to watch her show, along with representatives of the recording company Capitol Records. A few days later Turner was already in London and was recording two new songs: one of them was "1984" by David Bowie, and the second was "Let's Stay Together", which became not only Tina's first single, but that song, which was suddenly "for one night "turned her into a real star.
1985 became a landmark for Tina Turner. In California, she received two awards at the American Music Awards: one for "Best Singer," and the other for "Best Video Actress." And at the Grammy Awards ceremony, Tina climbed onto the stage three times: as "Best Singer", "Best Rock Singer" and creator of "Best Song" ("What's Love Got To Do With It?"). So Tina managed to replace the name of "Turner's wife" with the title of "the most beloved American star of the 1980s". She accepted the title with dignity.
In her life there were brutal beatings of her husband, and a life of debt, and an attempted suicide, and creative failures, but nothing broke this woman on the way to her dream.