KING RHYTHM-N-BLUES – PRINCE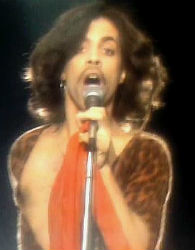 The talented and mega-popular singer Prince has released hundreds of musical compositions and almost forty studio albums, 100 million copies of his records have been sold in the world. All this gave him a kind of creative freedom, he could afford unpredictable acts, shocking and eccentricity. And once he just wanted to change his stage name to a complex graphic symbol. He worked for hours in his home studio, and then, going to the thousands of fans on stage, enveloped them with his magic. At first he drove the audience into a frenzy, after which he forced him to listen carefully to the lyrical song. This was the secret of his popularity and magic, fueled by incredible performance.
Life for two
This virtuoso guitarist, multi-instrumentalist, composer and outrageous singer was called a real rebel and a true propagandist of freedom. He was born on June 7, 1958 in Minneapolis and was named Prince Rogers Nelson. Singer Prince His mother, an American of European descent, Matti Della, was a jazz singer. His father, African American John Lewis Nelson, was a pianist and composer.
The head of the family led the musical group The Prince Rogers Trio. The team performed at various parties and local concerts. To support his family, John worked at the factory, doing heavy manual labor, although music was the dream of his life. Prince grew up watching his father suffer from the inability to devote himself to his beloved work. Then the boy promised himself to live an exciting musical life for the two of them. This desire and desire of his son to earn fatherly love forced Prince to spend hours honing his singing and performing skills.
Family disorder
John had a difficult character, so the children were even afraid of him. After work, he often did not come in a mood and began to find fault with the singer Prince for offspring for any trifle. The sisters were more flexible, so they tried their best to please the parent, but Prince, on the contrary, easily got involved in a verbal skirmish with his father. One of these family scandals ended sadly. John in his hearts shouted to his son to get out of the house. Of course, this was just an emotional statement from an angry father, but Prince did not stay. So, at age 15, he got over to friends, expecting his father to cool off and call him home. But the wayward John did not want to be the first to go make up. Prince had to earn a living and at the same time make music.
Minneapolis sound
The first real hit of the young musician "I Wanna Be Your Lover" was presented to him by the singer Prince not only fame, but also brought the respect of critics. Music commentators spoke of a special "Minneapolis sound," and later unanimously declared Prince to be his ancestor. It was he who was able to stylistically combine simultaneously several directions: rock, pop, synth-pop, funk and new wave music.
From one collection to another, the creative face of Prince has changed, adding even more color to his extraordinary image. The third album of the singer "Dirty Mind" in 1980 turned out to be the most provocative because of the presence of the singer, Princely and even to some extent impudent lyrics and the image that Prince chose for himself. From that time on, he began to wear defiant outfits and stilettos. Once he performed as the opening act for The Rolling Stones and fans even threw plastic bottles at him. Although the artist was not particularly upset, because he never tried to adapt to the audience and someone like it. On the contrary, he wanted to show the world himself what he was, to subdue with his scandalousness. Prince believed that born in a world of contrasts, where there are black and white colors, good and evil, day and night, men and women, being one is simply not permissible, because everything should exist in harmony.
April 21, 2016 the musician passed away. And only after his death it became clear that relatives and fans did not know much about their idol. He was not bankrupt, although his accounts were empty. Just Prince was one of those who chose to store money in precious metal bullion. 67 gold bars were discovered in his house. singer Prince
Prince had no children, and although he had a romantic relationship with many celebrities, he died alone, like other stars of his level. The cause of death was a large dose of a strong analgesic, which he took from pain in the hip joint. The week before, he had hardly slept due to these manifestations and had experienced two heart attacks. . Every evening he talked with the Almighty, not asking for anything, but thanks to him for everything that was in life.
The name of one of the most gifted musicians of the past and present centuries is included in the Rock and Roll Hall of Fame. During his lifetime, he was recognized as one of the most talented guitarists and vocalists, who won the hearts of millions of fans in the world with his gift.