musicians performed
MUG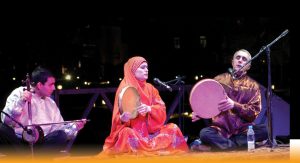 AM is the main form (genre) of Azerbaijani professional music of oral tradition.
Part of the pan-eastern culture of macamata. The poetic basis of Mugam is the gazelles of classical and modern poets. Monodial mugham art has developed over many centuries, transmitted from generation to generation.
The teaching method is based on auditory perception, memorization and creative comprehension of mugham information transmitted from the master (ustad) to the student (shagird). Cyclic mugam compositions are embodied in small and large instrumental (solo) and vocal-instrumental (ensemble) forms. The mugham composition is based on frets (modes), each of which has a characteristic final melodic formula (ayag).
An important feature of Azerbaijani Mugam is the improvisation of a metrically free ornamental melody within the framework of a certain canon. Performers also have some freedom in composing a mugam composition (selection of parts, their sequence and quantity). Depending on local characteristics, time (season, time of day) of performance, talent of the performer is the same. mugams can have different options. Mugam schools are preserved: Baku, Karabakh, Shirvan, etc. Continue reading →